UP Diliman upholds privacy rights through an inclusive set of safeguards that mutually support each other.
Learn how we ensure the safety of all data and information flowing to, within and out of UP Diliman, including its information systems.
UP DILIMAN PRIVACY POLICIES
The UP Diliman Privacy Network
Privacy Focal Persons
Privacy Focal Persons, also known as PFPs, are UP Diliman's champions for privacy and partners of the its Data Protection Office in cultivating a nature of respect for privacy. Learn more about the duties and responsibilities of a PFP here.
Units and offices of the Privacy Network
The University of the Philippines Diliman is comprised of 84 academic units and administrative offices, all of which are committed to privacy. Reach out to the units and offices of the Privacy Network here.
"In this digital era, information is the currency of power – valuable, coveted, but at a very high risk."
– Sen. Edgardo Angara
The UP Diliman Data Protection Office in performance of their function to inform and cultivate awareness on privacy and data protection, below are some of the frequently asked questions to give more understanding and information to UP people.
Data Privacy
What is Data Privacy Act 2012 of the Philippines? What is Personal Data? Who are Data Subjects? What are my rights as a Data Subject of UP Diliman? What is the Privacy Focal Persons?
Records Management
What is records management? Why is it important? Learn the basics of UP Diliman's Records Management here
Data Classification
What is Data Classification? How does UP Diliman classify its data? Learn the basics of UP Diliman's Data Classification
Privacy Impact Assessment
A Privacy Impact Assessment (PIA) is a process to identify how a Personal information Controller (PIC) such as UP Diliman, processes personal information, the possible privacy risks, and how to manage these risks. Learn more about UP Diliman's PIA here.
Document and Email Privacy Footers
Official messages and communications with private or confidential information transmitted to non-UP parties should have a privacy notice found here
Written policies are sometimes hard to read. The UP Diliman Data Protection Office offers you Infographics to ease the information dissemination within UP Diliman.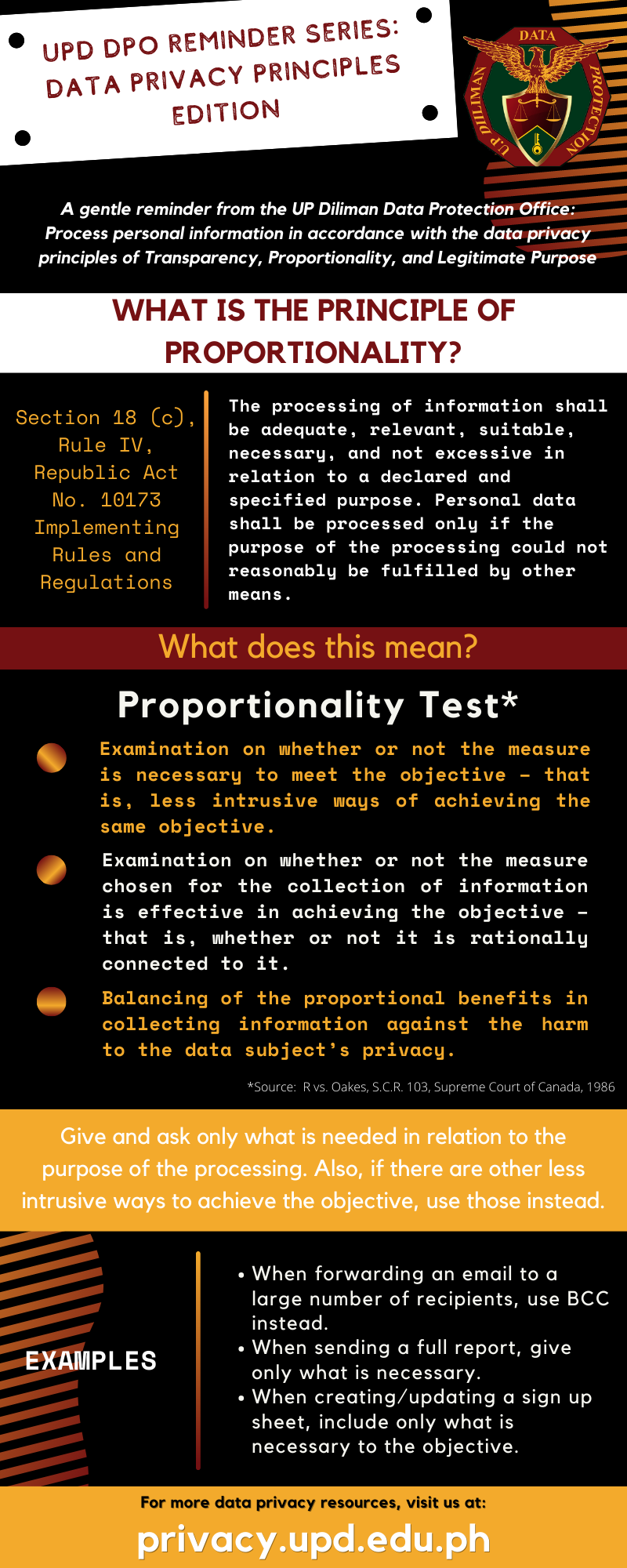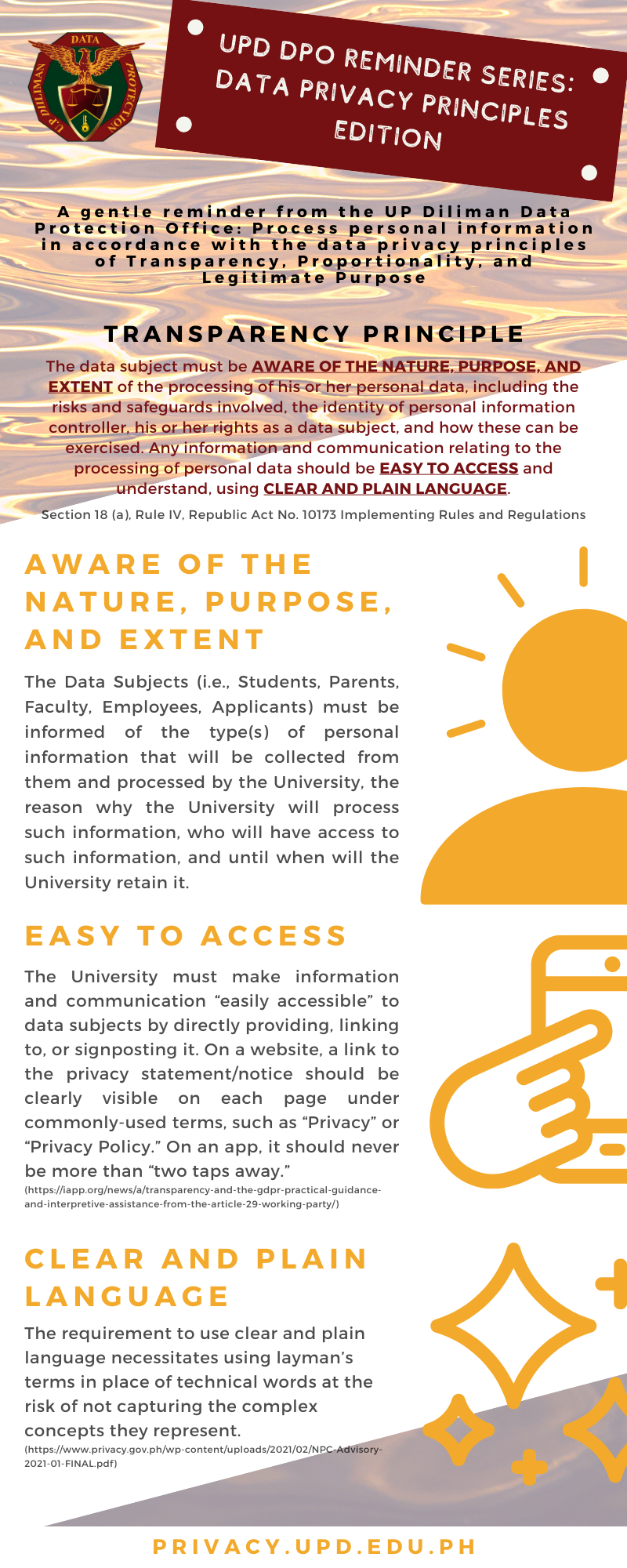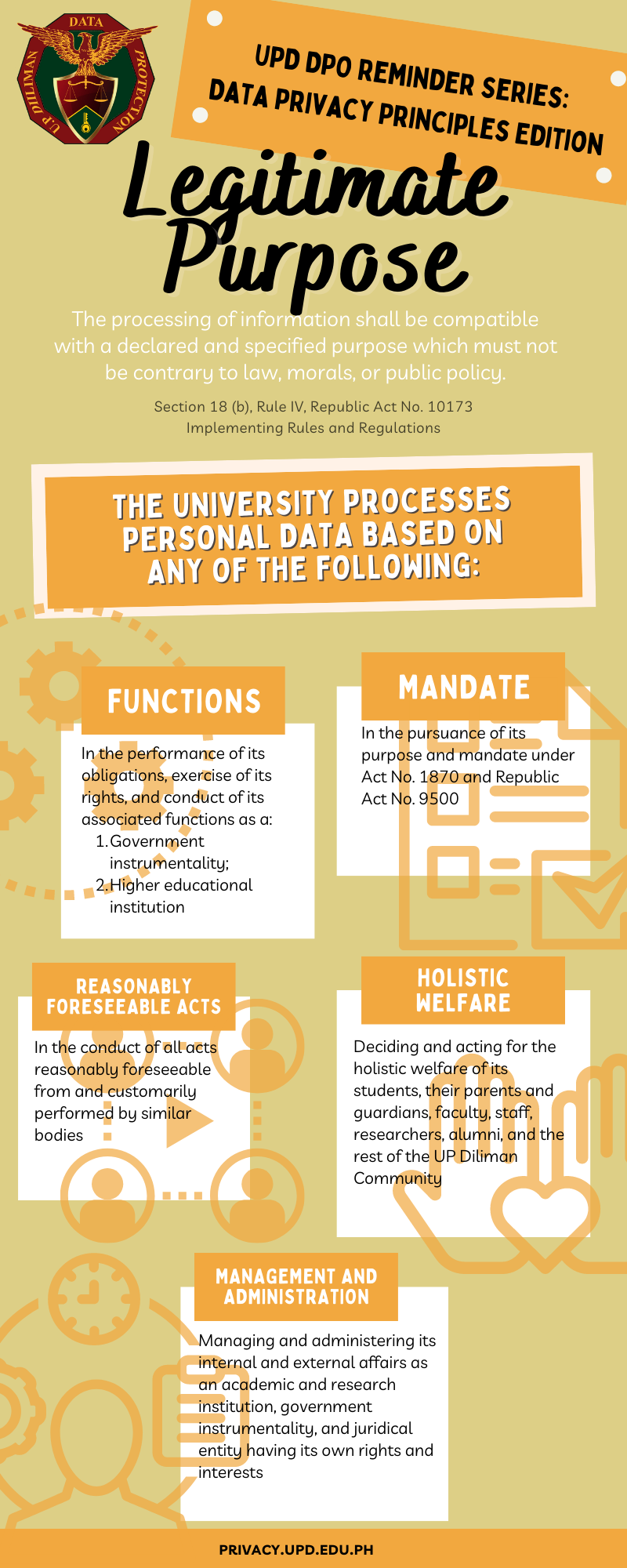 Records Management and Data Privacy Capacity Building
The UP Diliman Data Protection Office regularly conducts seminars to build capacity in records management and data privacy.
The UP Diliman Data Protection Office is a unit of the Office of the Chancellor led by the UP Diliman Data Protection Officer and mandated to protect the privacy of personal data with the following roles:
Protect privacy rights of the UP community and linked to UP

Preserve compliance with data privacy laws and regulations

Promote a culture of respect for privacy in UP Diliman University of the Philippines
UP Diliman Data Protection Office
L/GF, PHIVOLCS Bldg.
C.P. Garcia Avenue
Diliman, Quezon City 1101
(Trunkline): +(632) 8981-8500 Telephone Directory
(Landline): +(632) 8255-3561
Email: dpo.updiliman(at)up.edu.ph
Report a privacy security incident or personal data breach using email subject "Incident/Breach – Name of the Unit" at dpo.updiliman(at)up.edu.ph